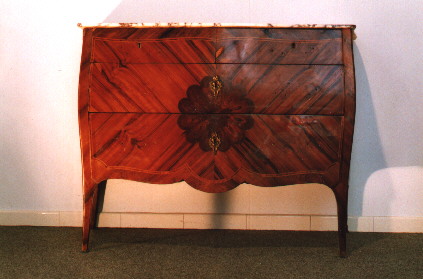 .Cassettone Genovese of line Luigi XV, in marble slowly calacatta,
structure in wood of rosewood conifer, lastronata with inlay. Bottom
specchiato in rosewood centered from flower to twelve petals in
Brazilian rosewood, closed from " tape " in maple tree and rosewood.
The cassettone leggermente bombato and it is arch on and legermente
svasato on the flanks. Measures cm. 122 - 58 - 89h approximately.
The photos introduce it before the restoration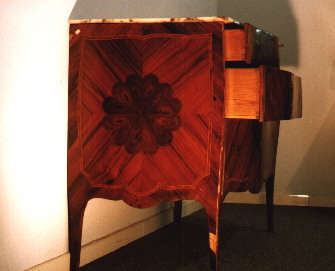 lAge approximately 1760-1770, the reason of the decoration is found
again published in: Italian furnitures of the 1700's, and. Mondadori
Associated, pag. 48 (Angoliera), pag 108 (raised Ribalta with). The
piece of furniture introduced here can be attributed to the bottega of
Gaetano Bertora, to mobiliere and genovese intarsiatore, in how much
the ribalta with rising cited before like comparison for the inlay to
twelve petals and signed in the back from Gaetano Bertora and comes
cited in an article appeared on " the gazette Antiquarianism " n° 33 /
1998 to pag 58.